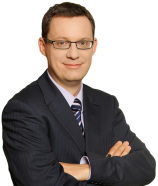 dr Tomasz Jedwabny
Legal advisor (radca prawny) and solicitor (qualified in England and Wales ), co-founder and partner in Jedwabny Legal
MAIN PRACTICE AREAS:
Project finance
Infrastructure finance
Public-private partnership
Public sector financing
Acquisition finance
Derivatives
Financial sector regulations
Dr Tomasz Jedwabny specialises in different types of financing instruments, including bank loans and bonds, with main focus on infrastructure and project finance, as well as has significant experience and interest in the PPP projects. During his professional career, Tomasz has also advised the banking sector and investment firms on numerous regulatory projects as well as with regard to derivatives.
Tomasz has commenced his legal career in the finance department of Clifford Chance in Warsaw where his area of expertise was predominately focused on capital market transactions and financial law. Later, Tomasz moved to the London office of Clifford Chance where he advised on different financing transactions and regulatory products, including projects governed by English law. During that time Tomasz was also seconded to Morgan Stanley in London where he was involved in a number of regulatory projects. In 2009 Tomasz moved to Luxembourg joining the European Investment Bank. While at EIB, Tomasz advised on transactions concerning financing of different infrastructure projects (including PPPs) and projects involving financing provided to local authorities and municipal companies (in particular, water and sewage networks, public transport, airports and railways), closely cooperating with the business, risk and treasury departments of EIB. Following his return to Poland, Tomasz re-joined Clifford Chance and subsequently moved to CMS Cameron McKenna where he became a partner in 2013. In 2015, Tomasz together with Magdalena Brzozowska co-founded a boutique law firm specialised in legal advice concerning financing and infrastructure.
Due to his significant experience as an external legal advisor and an in-house counsel, Tomasz has a great understanding of business needs and risk management that enables him to communicate more effectively and easily with other professionals participating in preparatory and implementation stages of different projects.
Tomasz graduated from the Faculty of Law and Administration of the University of Lodz where he gained MA in law and subsequently also obtained his PhD degree. He is a member of the Regional Chamber of Legal Advisors in Warsaw and the Law Society of England and Wales.
He is a fluent speaker of Polish, English and German and has an intermediate knowledge of French.
Tomasz is a recreational triathlonist, loves travelling, photography and books on current geopolitical and economic affairs.
Amongst others, Tomasz provided advice to:
an international financial institution on the financing of a project concerning construction and maintenance of a section of the A2 motorway between Nowy Tomyśl and Świecko – one of the largest projects in the advent of EURO 2012, one of a few motorway sections in Poland constructed and maintained under a motorway concession
sponsors and an SPV on the financing of a project consisting in the construction of a gas-fired power plant in Stalowa Wola – one of the largest projects in Poland carried out under a project finance model
public partner on the public-private partnership project concerning renovation and maintenance of the Jagiellonian University Collegium Medicum student accommodation – the first successful PPP project in social housing in Poland – currently under construction
Fundusz Inwestycji Infrastrukturalnych Kapitałowy FIZAN managed by Polski Fundusz Rozwoju S.A. in respect of a transaction consisting of a co-investment with Pojazdy Szynowe PESA Bydgoszcz in a company whose main business activity includes lease of locomotives manufactured by PESA – a first transaction of this type in Poland
the Polcom Group in a transaction relating to finanicng of a hotel in Scotland – a first project of this type for the Polcom Group
international financial institution on the financing of construction and maintenance of an underground car park in Wrocław – one of the first projects in Poland carried out under a concession scheme
arrangers on a revenue bond programme for a water and sewage company in Bydgoszcz – the first programme for revenue bonds in Poland;
several Polish and international financial institutions and investment firms on the implementation of MAD, MiFID and EMIR and on derivative documentation
From Chambers Europe 2016
"Tomasz Jedwabny of JedwabnyLegal previously worked for an international law firm and
has accumulated notable experience in project finance and PPP matters.
Clients say he is "helpful, logical and has initiative."
« return